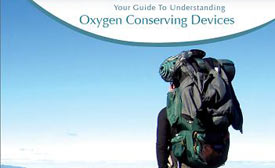 In 2007, Valley Inspired Products published 'Your 2007 Guide to Understanding Oxygen Conserving Devices'. In addition to bench test product evaluations performed in VIP's test lab, the book contained sections outlining the history of long term oxygen therapy, the fundamentals of oxygen delivery, methods of oxygen conservation, and key issues in therapy with conserving devices.
Product evaluations included performance comparisons on all types of oxygen conserving systems that were available in 2006-7. These included pneumatic and electronic conserver regulators, pulse-dose liquid oxygen (LOX) systems, and portable oxygen concentrators (POCs, which at the time were a relatively new entry in LTOT). Performance characteristics like pulse volumes, triggering sensitivity, and delivered FiO2s were reported.
The aim of publishing this data was to give everyone from oxygen users to clinicians to equipment providers the necessary information to make informed decisions regarding the appropriate use of OCDs. While the specific product data and analysis contained in the latter half of the book may be considered outdated today, the bulk of the material that makes up the first sections of the publication were as relevant then as they are now.
Table of Contents:
If you are interested in purchasing a hard copy of the book, please call us to inquire about availability. VIP also can provide a digital copy in PDF form for a minimal fee.