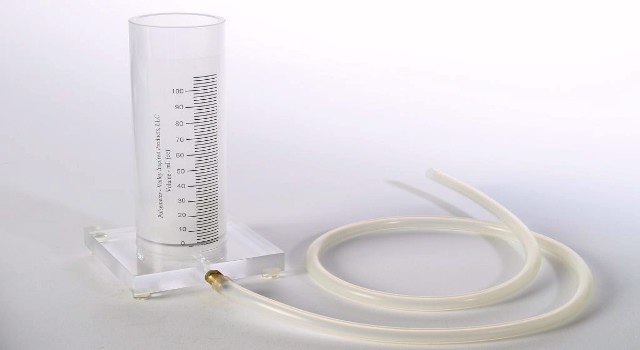 Valley Inspired Products' Pulsemeter is used to measure the delivered oxygen volume from pulse type oxygen delivery systems, including oxygen conserving devices (OCDs), liquid oxygen portables, and portable oxygen concentrators (POCs). The Pulsemeter is best used with single lumen, fixed-pulse oxygen delivery systems. Accuracy is +/- 2cc.

As of April, 2016, Pulsemeters are now manufactured and distributed by Wair Products. Please direct all Pulsemeter inquiries to Wair Products via email at This email address is being protected from spambots. You need JavaScript enabled to view it., by telephone at 952.881.9449, or by fax at 952.881.9356. VIP will no longer take orders for Pulsemeters.
INSTRUCTIONS FOR USE (Download PDF)
The Pulsemeter does not test for continuous flow oxygen output and should not be used to test conserving devices that require dual-lumen cannulas. Only single-lumen OCDs should be tested using the Pulsemeter. Refer to the manufacturer's specifications for delivered pulse volumes per OCD setting before using the Pulsemeter to verify the oxygen delivery volume.
OPERATION
1. Place the piston inside the cylinder, with the black ring towards the bottom.
2. Pour a small amount of water on top of the piston. There should be just enough water to cover the entire piston (approximately 2 graduations on the volume label). Check to make sure that the line on the piston is at the 0 volume graduation on the Pulsemeter label.
3. Connect the silicone rubber tubing to both the Pulsemeter and the conserving device that is to be tested. Turn the conserving device on to the desired setting, as well as the oxygen source.
4. Squeeze the silicone tubing shut, near to the Pulsemeter base.
5. Place one finger over the small hole at the base of the Pulsemeter.
6. Keeping your finger over the hole, release the silicone tubing. This will trigger the conserving device to deliver its pulse volume dose.
7. Looking at the Pulsemeter straight on (not at an angle from above), read the graduation on the label which most closely lines up with the line on the piston. Each graduation represents 2 cc (cubic centimeters or milliliters).
8. Release your finger from the hole. The piston should return to 0. Repeat steps 4-7 several times for each setting of the conserving device, to assure consistency.
9. When finished, remove the piston from the cylinder and dry both parts with a clean, lint-free cloth.
Note that the delivered volume of oxygen varies by each type of device, even from different products by the same manufacturer. Always reference manufacturer specifications for expected pulse volumes. Specifications can usually be found in the product manual or on the manufacturer's website.